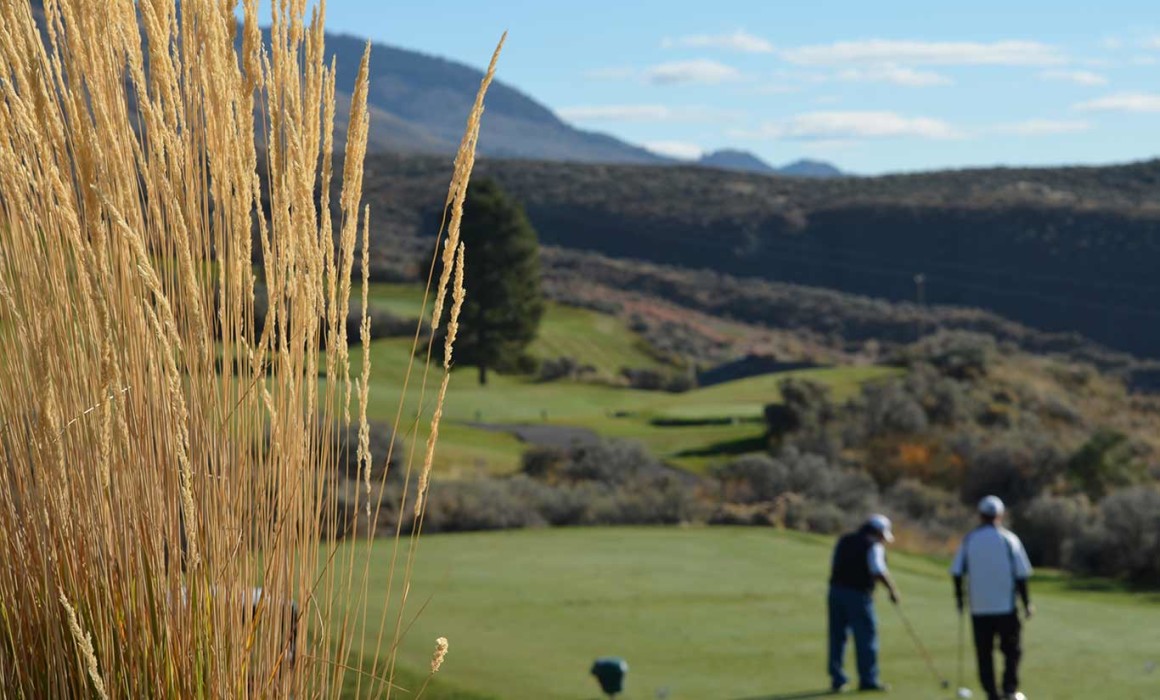 Did you know there are more than 50 Golf Courses in the Okanagan Valley and Kamloops region combined? So, it's not surprising then, that these areas of British Columbia are truly a Golfer's paradise!
We checked out all of the local course reviews, locations, scenery, food, Pro Shops, practice areas, award winners plus more…and what did we find? The top 5 Golf Courses in Kamloops and the Okanagan Valley we think every Golfer should visit this Summer.
1. Tobiano Golf Course, Kamloops
Just a 15-minute drive from downtown at 38 Holloway Drive, the Tobiano Golf Course was built on an exquisite piece of property offering up the most amazing views. The scenery is so gorgeous you may have a difficult time focusing on your game! The course itself is very well laid out, offering different tee boxes (this is the key to an enjoyable game) for every level of Golfer. Having said that, the Front 9 holes are the most challenging especially if the winds are gusting, as it can get windy on this course. With great practice areas, excellent staff, service and the scrumptious food at the scenic Black Iron Restaurant this is a true Disneyland for golfers. Carts are included with your round. Find more information here.
2. The Harvest Golf Club, Kelowna
Located at 2725 K.L.O. Road was built amongst the Orchards overlooking the Okanagan Valley and Lake. With breathtaking views, the Harvest Course boasts 1800 square feet of practice areas making it the largest in the Okanagan. With putting greens, sand bunkers, 2 chipping greens plus much more, you can easily get pre-game ready! Perfect for all levels the service here is commendable, from drive up Valet Service (no bag drop here) to the friendly and informative staff you won't be disappointed. Season dependent, you are encouraged to nibble on the abundance of fresh fruit found on this course: cherries, peaches, plums, apples, grapes, pears and nectarines. Or you may opt to dine at the Clubhouse which offers a full Lunch and Dinner menu with Prime Rib being an all-time favourite. Click here for more information
3. Kamloops Golf and Country Club
This beautiful and historic course was first built in 1914 and is located at 3125 Tranquille Road. With a total renovation in 1946 this course nurtures many large trees to provide a little more shade during those hot summer days. You will find a fantastic Pro Shop here with BC certified staff on hand offering a special Demo Program where golfers can try before they buy! With an extensive selection of demo clubs like Titleist, Cobra, Callaway and Cleveland wedges you can try these during your game, see if you like it and then purchase it at the same price (or better) as the Big Box Stores. The grounds are nicely kept and the Clubhouse offers a well-rounded menu at reasonable prices. Check out this Nine and Dine Offer.
4. Predator Ridge, Vernon
Located at 301 Village Centre Place this "Resort" Golf Course has been voted in the Top 5 in the Okanagan Valley and for good reason. Whether sitting on the patio enjoying the spectacular view with a glass of local wine or swinging your club on the incredible fairways this course has it all. Offering 2 courses "The Ridge or The Predator" both are well thought out with smart bunkers, fair greens and a World class practice facility. With Sparkling Hill Resort, just around the corner this is a place the whole family can go including Fido (as pets are welcome)! Kids in the pool, Dad on the course, Mom in the Spa. Other amenities you may enjoy: Biking, Hiking, fitness classes, Yoga Retreats, swimming pools, tennis courts, a Wellness Facility and access to the Kur Spa. Check out what you can do here
5. The Tower Ranch Golf and Country Club, Kelowna
Located in Kelowna is just 10 minutes from the Airport! Built in 2008 this course offers incredible views overlooking vineyards and the best of the Okanagan Valley. With its rugged layout, fast greens and numerous elevation changes this course can be very challenging even for the avid Golfer. Situated on a hill this 18-hole Award Winning course is very well maintained offering a Restaurant & Bar, Club House, Pro Shop and a Fitness Facility. You will find a great variety of healthy food options at the Carrington Restaurant along with a vast Wine Menu. Read more about this Championship course here
Where's your favourite place to golf in the summer?